---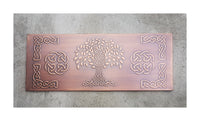 Celtic Decor Metal Wall Art
Metal wall decor

Single piece that measures 30" x 12".

Celtic Tree of Life

Made in copper, brass or stainless steel.
Handmade from a raw copper of 0.57mm ( .020") bulk. The same thickness is utilized in the construction of roofing. Tiles are firm, strong, and very durable. They are secured with high-quality microcrystalline wax the same as used in the Renaissance Wax British Museum. Copper will age slowly and beautifully over time. Delicate cloth, sensitive soap, and lukewarm water is best for cleaning. Apply wax each year, if you want to slow aging progress. Some foods (such as ketchup and mustard) and acids may increase changes to the tint.
Copper tiles can be used outside. You can use them for decor of walls, outdoor kitchens or vineyards, etc.
Achieve unique look at your house with that Celtic Decor Knot Symbol Tiles. That wall piece is handmade and very special. It will create an excellent visual feeling in your kitchen or living room. Even little decor change can make a huge difference. Make a clear statement and it will be the BEST dashing object at your apartment!
For setup, you must have small mortar and grout.
Here you can find full information about tiles and answers to often asked questions.
We  make a fine and long-lasting piece of art with the most eco-friendly method available. Metals are among the most recycled materials. They have high worth and are simple to reclaim or use again. These tiles have a high recycled material content and 100% of our bits are used again or recycled. A highly skipped aspect of green consumerism is longevity. In the long run, the greenest product is often the one that lasts the most. Copper survives practically forever.