---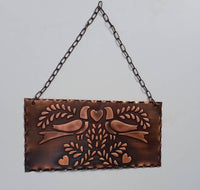 Birds on Metal Wall Plaque
Get one of a kind look to your house with that Birds on Metal Wall Plaque.
Even little piece can bring a huge improvement. Make a clear expression and it will be the BEST decorative object at your apartment!
Handmade from a raw copper of 0.57mm ( .020") thickness.
Metal plaque made of copper with a solid chain attached.
Size is 20cmx40cm (8''x16'')
Other designs are available on request.
Full information about the picture and responses to often asked questions are accessible here.
We are devoted to making a beautiful and long lasting article with the most environmentally friendly process possible. Metals are among the most eco friendly materials. They have a high value and are simple to reclaim or use again. Our pictures have a large recycled material content and 100% of our scraps are used again or recycled. Highly overlooked aspect of green consumerism is durability. In the long run the greenest product is often the one which lasts the most. Copper lasts almost forever.