---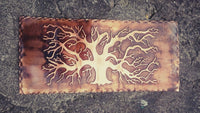 Metal Wall Mural Tree of Life Plaque
Achieve a unique look at your house with this Metal Wall Mural Tree of Life Plaque.
Even small redecoration can make a significant change. Make a brave expression and it will be the BEST dashing thing at your apartment!
Made by hand from a pure copper of 0.57mm ( .020") bulk.
MATERIAL COPPER
BROWN PATINA
Size 80cm x 37 cm.
Full guide about the product and responses to often asked questions are available here.
We are committed to making a fine and everlasting piece of art with the most eco-friendly process possible. Metals are among the most recycled materials. They have a high value and are effortless to reclaim or reuse. Our plaques have large recycled material content and 100% of our bits are used again or recycled. A highly overlooked aspect of green consumerism is longevity. In the long run, the greenest product is usually the one that survives the longest. Copper persevere practically forever.