---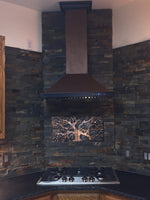 Custom Made Wall Backsplash Tile - custom fit
Handmade from a pure copper of 0.57mm ( .020") bulk. The same bulk is utilized in the construction of roofing. Tiles are tough, strong, and very reliable. They are protected with the best quality microcrystalline wax the same as used in the Renaissance Wax British Museum. Copper will age gradually and aesthetically over time. Soft cloth, sensitive soap, and tepid water is good for maintaining. Apply wax once a year, if you want to slow the ageing process. Some foods (such as ketchup and mustard) and acids may increase changes to the tint.
Copper tiles may be used outdoor. It can be used for walls, open-air kitchens or vineyards, etc.
Get a special look to your property with this Custom Made Wall Backsplash Tile - custom fit. This wall unit is made by hand and one of a kind. It will bring a superb optical feeling in your kitchen or living room. Even a small remake can bring a huge difference. Make a brave statement and it will be the BEST dashing thing at your home!
This is listing for Tedra.
Tree of a life tile backsplash, made from copper tiles. Needs to fit in an area 38.5 inches long and 11.5 inches high (including grout lines).
The design may include some ornamental borders, your family arm of coat, etc.
Production time 20 days
The photo presented as an example of the tree that I will work on. Color to be discussed further. The one shown is a dark copper patina with shiny embossed designs.
Tiles can be personalized with a company logo or alternative signs or texts. Simply send us a photo of your selection (jpg or vector file). You will get an e-mail when your quote is prepared.
For installation, you will need small mortar and grout.
Here you can find technical details about the product and responses to often asked questions.
We are committed to making a fine and long-lasting piece of art with the most environmentally friendly process possible. Metals are among the most eco-friendly stuff. They have high worth and are simple to retrieve and use again. These products have a large recycled material content and 100% of our scraps are reused or recycled. One of the most skipped aspects of green consumerism is durability. In the long run, the greenest product is usually the one that lasts the longest. Copper persevere almost forever.